Invisalign vs. Traditional Braces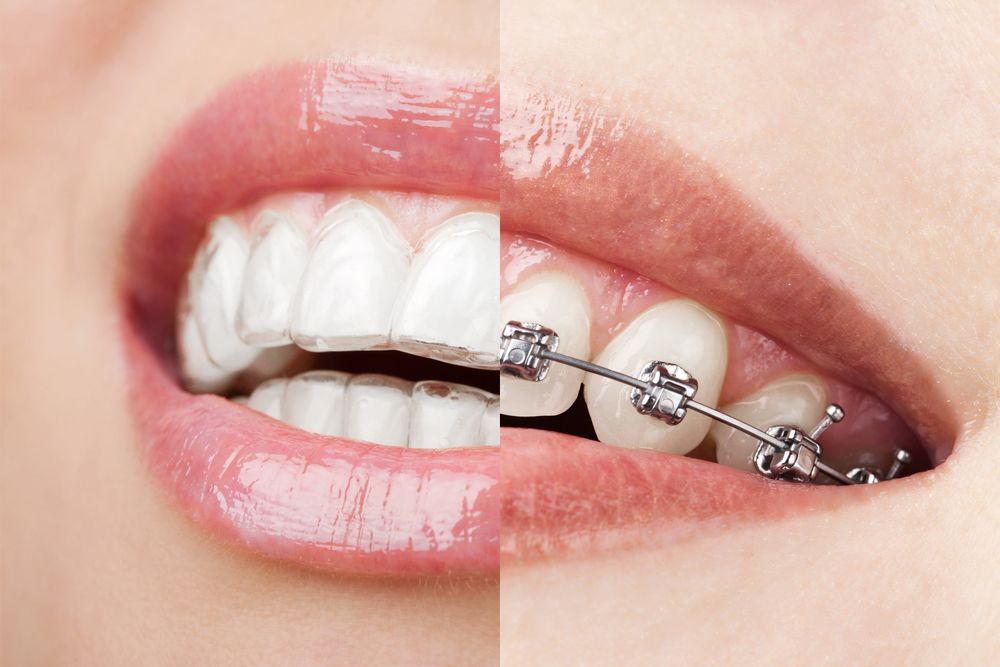 Both Invisalign and traditional braces can correct the alignment of crooked teeth. In complicated cases with severe malocclusion, traditional braces are often the preferred method of treatment. However, Invisalign offers many advantages over traditional metal braces.
At Astoria Dental Group, serving Queens, NY, Long Island, and the greater NYC area, our dentists offer orthodontic evaluation and treatment. After performing a thorough exam and studying your X-rays, we can determine whether Invisalign or braces will best help you reach your dentistry goals.
The Benefits of Both Invisalign and Braces
Since its creation in 1997, Invisalign has become the more aesthetic orthodontic treatment option. Invisalign treatment offers a discreet, comfortable, and convenient alternative to traditional braces. Additionally, it can help many patients achieve the same results as traditional braces. Invisalign and braces share many of the same benefits.
Effective Treatment
Over time, the technology and effectiveness of clear aligners has significantly evolved. In a study published by BMC Oral Health, researchers determined that "both clear aligners and braces were effective in treating malocclusion." Both options can help patients achieve visibly straighter smiles.
Broad Candidacy
Invisalign can successfully treat mild to moderate misalignment, while braces remain the preferred treatment for severe misalignment. While advancements in Invisalign technology have made it possible to treat more complex cases, traditional metal braces are superior at controlling twisted teeth and wide gaps.
The best treatment plan for you will depend upon your specific orthodontic issues and what you want to achieve.
Patient Satisfaction
According to a study by the American Journal of Orthodontics and Dentofacial Orthopedics, when patients were questions about their satisfaction with Invisalign and bracket-based braces after treatment, they reported that "both the bracket-based (braces) and Invisalign treated patients had statistically similar satisfaction outcomes." Unsurprisingly, Invisalign was superior in the eating and chewing category.
Differences between Invisalign and Braces
Dietary Restrictions
Invisalign trays should be removed when a patient eats or drinks liquids other than water, so patients can eat and drink what they want without worrying about damaging their aligners. Traditional braces may break or come loose when chewing sticky or hard foods, so patients should change their diet accordingly. As a result, gum, popcorn, and caramel treats are off the menu for patients with traditional braces.
Oral Hygiene
Everyone needs to keep their teeth clean and free of plaque to prevent cavities and gum disease. Patients with braces are often instructed to brush their teeth and gums five times a day for at least five minutes. Plaque (a colorless, sticky film of bacteria) and food particles can get stuck between fixed brackets and wires in hard-to reach locations and increase the risk of stains and cavities.
Meanwhile, Invisalign aligners should be removed and rinsed when patients brush and floss their teeth. With the aligner out of the mouth, normal brushing and flossing can be performed twice a day and good oral hygiene is easier to maintain.
Gum Health
BMC Oral Health published another study comparing patients' periodontal (gum) health with Invisalign and traditional braces. Researchers reported, "significantly better gingival health conditions were recorded in Invisalign patients, whereas the amount of dental plaque was also less but not significantly different."
Comfort
With clear, plastic Invisalign aligners, patients never experience poking wires or broken brackets that can irritate the delicate soft tissues of the mouth.
Compliance
Invisalign is ideal for responsible teens and adults because compliance is key to success. Patients must wear Invisalign aligners for 22 hours per day. Invisalign Teen offers complimentary replacement aligners because losing an aligner is common. If aligners are not worn as directed, treatment results may be delayed.
In contrast, traditional braces are affixed to teeth, so compliance only involves adjustment visits and proper home care.
Contact Us
To learn more about the similarities and differences between braces and Invisalign, schedule an appointment at Astoria Dental Group by calling (718) 278-1123 or messaging us online today.
Related to This