An Implant-supported Bridge Offers Unmatched Stability
After patients experience tooth loss, they are often left with noticeable gaps in their smiles. Missing teeth can not only detract from your appearance, but they can also have a negative impact on your oral health. A dental bridge consists of one or more artificial teeth used to fill in those gaps. With traditional bridges, the restoration is affixed to your surrounding teeth.
For patients seeking a treatment with superior stability, Drs. Clifford Degel and Carmen Every-Degel can provide an implant supported bridge at our Queens, NY, dental practice. Implant-supported bridges are anchored by titanium posts that have been surgically embedded in the jawbone, providing unparalleled comfort and strength. To learn more about how implant-supported bridges can help improve the form and function to your smile, contact our office today.
Implant & Smile Makeovers Results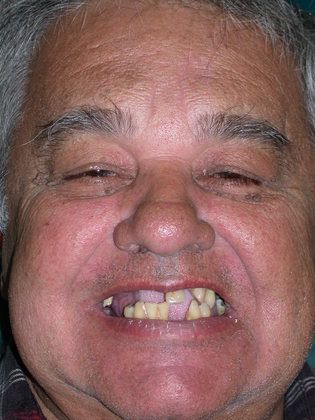 Preparing for a Bridge with Implant Surgery
When you arrive at Astoria Dental Group for a consultation, the doctor will first perform a thorough inspection of your gums, teeth, and jaw to evaluate your candidacy for an implant-supported bridge. In addition to being free of periodontal diseases, patients should also have an adequate amount of dense, healthy bone in their jaw. When teeth are missing, the jawbone will atrophy, or shrink, over time. Dental implants are the only treatment that can halt this process. If necessary, our doctors can perform periodontal treatments and bone grafting procedures to ensure your jaw is strong enough for implant surgery.
We understand that no two smiles are alike. Our skilled team will provide compassionate, customized care based on your unique needs.
During the implant procedure, the doctor will place titanium posts directly in the jawbone. Drs. Degel and Every-Degel use advanced imaging techniques like computerized tomography (CT) scans to plan every step of the process and ensure optimal placement of implants. Over the course of four to six months, the posts will integrate with the bone and eventually act as tooth roots. Once this process is complete, you will undergo an additional procedure to attach an abutment to your implants. The abutment rests above the gum line and allows the doctor to secure your bridge with unmatched stability.
Crafting and Placing Your Custom Dental Bridge
Your custom-designed dental bridge will be created at an advanced off-site laboratory. We offer bridges made from high-quality materials like ceramic or Prettau® zirconia, which are very durable, and mimic the look of natural enamel with incredible accuracy.
Once the implants have integrated with jaw and the incisions around your abutment have healed, you will return to our office to have your implant-supported bridge placed. The doctor will use images and impressions of your smile to ensure a comfortable and functional fit for your restoration, before securely attaching it to the abutment. With your implant-supported bridge in place, you can enjoy a smile with renewed strength and aesthetic appeal.
Start the Process Today
At Astoria Dental Group, we understand that no two smiles are alike. Our skilled team will provide compassionate, customized care based on your unique needs. If you are missing teeth and would like to learn more about the benefits of implant-supported bridges, as well as your other restorative treatment options, please call our office at (718) 278-1123 or send us an online message to schedule a consultation.