Prettau Zirconia FAQs
Drs. Clifford Degel and Carmen Every-Degel offer innovative Prettau® Zirconia restorations to patients looking for incredibly natural-looking results in and around Queens. This high-quality material is strong enough to last for years without staining, chipping, or cracking, and it greatly mimics the look and sheen of natural enamel. If your question has not been answered on this Prettau Zirconia FAQs page, reach out to us today to schedule a consultation and learn more about this remarkable material.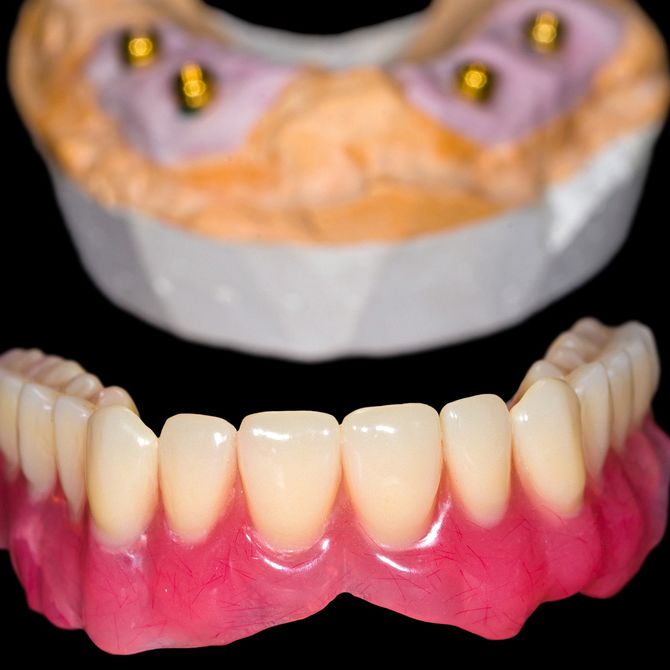 Prettau® Implant Bridge
What Is Prettau® Zirconia?
Prettau® Zirconia is a high quality ceramic material that is used to make some of the most durable and natural-looking dental restorations.
What Is It Used For?
Drs. Degel and Every-Degel use Prettau® Zirconia to create inlays and onlays, dental crowns, bridges, and dentures, to restore a patient's smile.
How Is It Different From Other Implant Materials?
Prettau® Zirconia offers a stronger alternative to more fragile materials, such as acrylic. Although zirconia is fairly new in the field of dentistry, this material has long been used to make durable and biocompatible artificial limbs. It is far less prone to cracking or chipping under the constant, daily pressure of biting, chewing, and speaking.
Will People Be Able To Tell The Difference Between Prettau® Zirconia And Natural Teeth?
The smooth, hard, translucent quality of Prettau® Zirconia strongly resembles natural tooth enamel. Most people cannot tell the difference between a natural tooth and a Prettau® Zirconia restoration.
How Long Will It Last?
Made of a non-porous, stable structure, Prettau® Zirconia is often twice as strong as porcelain. With proper care, Prettau® Zirconia can last ten years or more with minimal cracking, staining, or chipping.
Is There a Risk of Rejection?
With a long history of successful implants in the human body, Prettau® Zirconia has proven itself highly biocompatible. It presents a considerably reduced risk of allergy and potential rejection.
Is Prettau® Zirconia Comfortable?
Prettau® Zirconia has a hard, smooth surface that does not irritate the gums and other soft tissues.
Will Prettau® Zirconia Work With My Condition?
Skilled technicians at our renowned dental laboratory use photos, impressions, and detailed direction from Drs. Degel and Every-Degel when fabricating your restoration. This ensures that the implants look natural, complement your particular oral and facial features, and fit securely into your unique smile.
How Can Prettau® Zirconia Improve My Quality of Life?
For patients with a history of dental problems, putting your teeth on display can be a stressful experience. Many people even go so far as to avoid eating, smiling, or speaking in public. With natural-looking Prettau® Zirconia restorations, however, the source of the problem is eliminated almost completely. As a result, people often take more pride in their appearance – which can have a big impact on their professional, social, and personal lives.
Can I Request Prettau® Zirconia for My Implants?
Almost any patient missing teeth is a good candidate for receiving implant-supported Prettau® Zirconia restorations. While a certain amount of jawbone density is required to accept implants, our team can help boost your bone density to improve your chances for success.
Reach Out Today to Learn More
Astoria Dental Group provides advanced service to all their patients to ensure that they receive the best care possible. Contact us today to learn how Prettau® Zirconia can strengthen your smile.