Straightening your teeth can improve the health and appearance of your smile, but braces are uncomfortable and draw attention.
There is an alternative to unsightly metal braces. Invisalign® can help straighten your smile easily and discreetly.
Astoria Dental Group helps patients in Queens, Long Island, NYC, and beyond achieve great cosmetic results with Invisalign...
You have probably heard of Invisalign, since it is such a popular treatment for straightening teeth. But you may be wondering what it is exactly. Put simply, Invisalign is a type of orthodontic treatment that avoids many of the negatives that come with traditional braces.
Invisalign straightens your teeth with clear, strong plastic aligners. This makes it much less noticeable than the wires, brackets, and colors associated with traditional braces. The virtually invisible look of Invisalign is one of the biggest reasons so many patients from Queens, NY, and around the world choose Invisalign to improve their lives.
The advantages of Invisalign don't stop at aesthetics. While regular braces can break and necessitate rush trips to the orthodontist, Invisalign avoids these types of complications. Invisalign's removability also makes it much easier to clean your teeth than braces, and studies suggest Invisalign users maintain better oral health than those who opt for other treatments.
Achieve Alignment without Interrupting Your Life
Discreet
The trays are crafted using SmartTrack, a BPA-free plastic material. Since the aligners are clear, most people will never even notice you are wearing them.
Comfortable
At Astoria Dental Group, we carefully customize your aligners to fit comfortably. In addition, there are no wires or metal brackets to irritate the inside of your mouth during treatment.
Convenient
The aligners are removable. During treatment, you can brush and floss normally and enjoy all of your favorite foods. Plus, there is no need for painful adjustments, which means fewer visits to our office during treatment.
Let's Take a Closer Look At How This Differs From Braces
Why Patients Come to Our Queens, NY, Practice
As nerve wracking as one may think a visit to the dentist will be, I have to say I've had a great experience every time with this office. The staff is friendly, welcoming and pleasant. I worked with Cindy who is knowledgeable, thorough and walks me through the entire process with attention to all my questions. Always walk out of a visit on a good note. Highly recommend it.
View on Google
I loved this place. The whole staff was polite and advised everyone of what kind of dental work was necessary and what kind wasn't. Everyone here is extremely honest and are not the type of people to use fancy wordplay to steal money from your pockets. I had an amazing appointment with them which consisted of correcting my front teeth which they did in a superb fashion. I would recommend this place to anyone in need of a brighter smile.
View on Google
Millions of Patients
Have Straightened Their Smiles with Invisalign
Invisalign can be an effective orthodontic solution for most teens and adults. Whether you have overcrowding, irregular spacing, misalignment - or more complicated issues such as an overbite, crossbite, or underbite - this treatment can help. Call the Astoria Dental Group serving Queens, Long Island, and the greater NYC area today to request a consultation.
You May Be a Good Candidate If:
You Desire Discretion
Many teenaged and adult patients choose this option because the clear trays are much more discreet than traditional braces.
You Are Responsible
To achieve your desired results, you must commit to wearing the aligners for at least 20 to 22 hours each day.
Your Case is Mild
Clear aligners may not work for patients with severe malocclusion, rotated teeth, or large gaps. Our doctors may recommend another orthodontic option for these advanced concerns.
Don't I Need an Orthodontist for Invisalign?
Because orthodontists are closely associated with braces, many people think that alternatives to braces require an orthodontist. In reality, both dentists and orthodontists are able to become trained in Invisalign treatment. At Astoria Dental Group in Queens, Dr. Carmen Every-Degel is recognized as a top Invisalign provider, and she has years of experience helping her patients achieve amazing cosmetic results.
We Provide Smiles People Are Proud Of
I have been visiting this dental office for almost a year.
Love the dentist Dr. Carmen Every-Degel, she is very patient & explains all procedures & cost so that you can fully understand before you agreed to any treatments or commit to expense. The staff is very friendly...
View On Google
Very patient and smooth dentist. They take the time to explain the procedure and work with the patient. Doctor Clifford is great !
View On Google
Many patients worry that they're too old to pursue orthodontic treatment...
When many of us think of orthodontic treatment of any kind, we associate it with teenagers. But today, more and more adults are taking advantage of treatments like this that can allow them to achieve their goals without having to wear conspicuous metal braces.
The truth is that there is no upper age limit when it comes to Invisalign treatment. Even if your high school years are decades behind you, there has never been a better time to talk to us about clear orthodontics. Our Queens office welcomes patients from Long Island and throughout the area.
Take a Look at How a Clear Aligner Fits
Highly Precise Treatment Plans with Advanced ClinCheck Software
When you come in for your consultation, our team will take precise impressions. The information gathered in these impressions will then be applied to the ClinCheck software. Using this advanced technology, we can plan a custom treatment down to the smallest tooth movement to ensure every tooth moves in exactly the right way for comfortable and aesthetically pleasing results.
How Long Does Treatment Take?
Results Typically Take 12 to 18 Months
Although each patient will require a different
timeline
, the majority of treatments will range from 12 to 18 months. Once the treatment is completed, you will be provided with a retainer that can be used to help you maintain your results.
Invisalign Timeline
You Can Have a Straight, Beautiful Smile
in a Matter of Months!
With technologies like Invisalign available, there's no reason to go through life feeling self-conscious. Don't wait until tomorrow. Start your journey today and achieve your cosmetic goals in under two years. To request a consultation with Drs. Clifford Degel and Carmen Every-Degel, contact the Astoria Dental Group serving Queens, Long Island, and the greater NYC area by calling:
Most Patients Achieve
a Healthy, Beautiful Smile in Less Than 18 Months
Depending on the severity of your misalignment, you will likely complete your treatment within 12 to 18 months. Most patients achieve dramatically straighter teeth as a result of this treatment.
In addition to beautiful symmetry, Invisalign can also:
Make it easier to brush and floss
Improve the comfort of your bite
Reduce headaches
Prevent excessive dental wear
Raise your self-confidence
Some Patients Are Eligible For Accelerated Treatment


Invisalign® Express can straighten your smile in as little as three to six months. This treatment is not the right option for everyone, but if you are a good candidate you will receive a radiant smile faster than you could imagine.
Invisalign Express is a great fit for patients who have:
Recent tooth shifting
Minor tooth crowding
Just a few misaligned teeth
A small amount of tooth rotation to correct
A need to straighten teeth before undergoing cosmetic procedures
A desire to remove braces before their orthodontic treatment has been completed
The significantly quicker timeline offered by Invisalign Express is preferred by many patients. However, if you have severe misalignment or spacing concerns then the traditional option may be the best for you. Dr. Carmen Every-Degel can make this assessment for you with a simple consultation at our Queens office.
Reinvent Your Smile With Invisalign
Talk to us Today
Problems like tooth crowding, wide spacing, and bite issues can harm your smile, health, and confidence. If you want to take your teeth to the next level, there is no better time to start than today. Invisalign is an investment in your confidence and your health, and the sooner you start this treatment, the sooner you will be ready and proud to show off your smile.
For over 30 years, Astoria Dental Group has had patients come in with problems, and leave with healthy, beautiful teeth. Our work has been featured in leading publications like Vogue, Newsweek, Top Dentists, and Cosmo. Our patients' health and happiness are always our priorities. That is why we continuously work to stay at the cutting edge of dental technology, and why we renovated our office so that we could remain one of the most modern dental practices in Queens, NY, and all of New York City.
If you want a straighter, healthier, and more attractive smile, contact us today. You can request a consultation, call us, or fill out our contact form, and we will get back to you as soon as possible.
How to Maintain
the Results of Your Treatment
You play a major role in maintaining your results after Invisalign. Once you complete your treatment, Dr. Every-Degel will recommend you continue wearing your last set of aligners or start wearing a custom retainer to keep your teeth in their proper positions.
Typically, patients only have to wear their retainers overnight. Because you will need to wear a retainer on an ongoing basis, make sure to take your retainers with you when you travel and keep them clean.
Everyone On Our Staff Gets Glowing Reviews!
I've visited both Dr Every and Dr Degel and have had great experiences with both, with extensive work being done- extraction, implants, bridge, veneers, Invisalign, crowns, root canals and the basic cavities. The assistants are very helpful, staff is competent and friendly, the dental hygienist does a great job and I've never had to wait.
View On Google
I adore Astoria Dental Group and . The Dr. Degel are absolutely wonderful: consummately professional, careful, gentle, precise, thorough, concerned and expert. Both my husband and I are patients and couldn't be happier. I moved to the practice shortly after it opened, so my care has been first-rate for some time. My husband came in subsequently, and family and friends began noticing that his teeth looked better than ever.
View On Google
Invisalign Typically Costs More Than Braces
A beautiful smile is priceless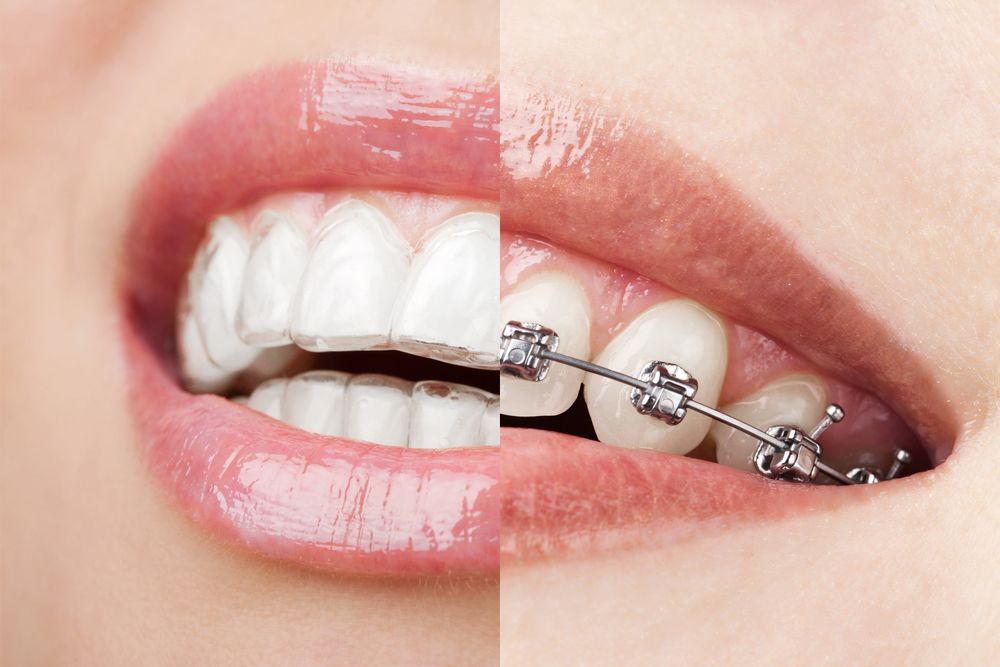 Although the cost of Invisalign treatment may seem significant, patients from Queens, NYC, Long Island, and beyond agree that the benefits of orthodontics far outweigh the costs. A straighter smile is easier to maintain, which can provide long-term savings when it comes to your dental treatment. Additionally, it's difficult to put a price on the confidence that comes with a straighter smile. Many patients agree that when they can smile, laugh, or just look in the mirror without worrying about their appearance, the feeling is priceless.
The Many Advantages
of Invisalign
Invisalign vs. Traditional Braces
Traditional braces are inconvenient, painful, and unsightly. Invisalign aligners offer an alternative. During your course of treatment, you will not need to have our dentists perform the painful adjustments associated with braces — you simply switch aligners every two weeks and come to our office periodically to check on your progress.
Invisalign aligners are invisible and comfortable to wear. You can remove them when brushing, eating, or drinking — they do not complicate oral hygiene or your daily routine. In addition, the clear aligners have no metal to irritate your mouth, making them easy to wear around the clock. You'll probably forget you're even wearing them!
Five-star Reviews for Five-star Smiles
I recommend Astoria Dental to anyone they are very respectable people they treat you as part of the family I enjoy when I go there And they don't keep you waiting they call your name as soon as you when you walk in
View on Google
First time I have been to Astoria Dental and Everyone and Dr. Degal was very professional and accommodating. Being comfortable with your dentist is priority and that I certainly was!!
View on Google