Cosmetic dentists offer advanced treatments that combine technology and artistry to help patients enhance the appearance of their smiles.
Our custom-tailored cosmetic treatment plans can help you achieve a brighter, whiter, more balanced, and noticeably more attractive smile.
Learn how the Astoria Dental Group in Queens, NY, can transform your smile with cosmetic dentistry...
Cosmetic Dentistry
It's perfectly normal to be unhappy with your smile. Watch this video to see that you are not alone and to learn more about cosmetic dentistry.
Target Problems That Leave Your Smile Looking Unhealthy
The power of your smile cannot be underestimated. By refining and enhancing it with cosmetic dental care, you can improve your entire appearance. Our cosmetic dentists, Clifford Degel and Carmen Every-Degel, offer a range of services to improve your smile with some of the simplest and most effective smile makeover techniques.
At Astoria Dental Group, serving Long Island and greater NYC, our cosmetic dentistry procedures can treat a number of issues, including:
Stained or discolored teeth
Chipped, cracked, or broken teeth
Crooked teeth
Worn or damaged teeth
Missing teeth
Gaps between teeth
Gummy smiles
Receding gums
Aging dental crowns, bridges, and other restorations
Unsightly metal fillings
Our dentists use state-of-the-art techniques and specialty treatments, such as injectables, to help you obtain optimal results for a lasting improvement to your smile.
Preview Your Results with Computer Smile Imaging
Our compassionate dentists share the excitement patients feel when they undergo this incredible process. Cosmetic care can improve the appearance of your smile, but it is important to know what you can realistically expect. Together, we can develop a personalized cosmetic dentistry treatment plan to achieve your dental care goals. Beginning with a digital preview of the anticipated results using our SmilePix smile design system, we can show you the simulated effects of any proposed treatment. This allows you to make an educated decision about your treatment plan.
Queens' Best for Confidence-Boosting
Cosmetic Dentistry
They explain the procedure to you and make you feel very comfortable while sitting in the chair.
Definitely I would recommend Astoria Dental Group . Keep up the good work so that we can keep having BEAUTIFUL SMILES.
View On Google +
Dr. Degel is an excellent dentist with an excellent and friendly staff. I am very happy with his work. I would highly recommend him. He's a very competent and confident Dentist. He does excellent work.
View On Google +
Take the First Step
Towards Loving Your Smile
At Astoria Dental Group in Queens, serving Long Island and greater NYC, providing excellent dental care to promote your oral health is our priority. But our team and dentists are also passionate about the exciting cosmetic improvements we can offer our patients. Our cosmetic procedures include options that are not necessarily offered in every general dentist's office.
With today's advanced dental technology, no one should have to go through life concerned by the appearance of their teeth and smile. A beautiful smile is a tremendous asset and can result in a significant boost in your confidence. This can have a miraculously positive impact on both your personal and professional life.
For these reasons, our dentistry practice offers treatment options to fit most budgets and a range of flexible financing options. To schedule an appointment and review your options, contact our Queens dental practice online, or call us today.
Meet Our Cosmetic Dentists

Dr. Clifford Degel
Considered a top dentist in Queens, Long Island, and all of NYC, Dr. Clifford Degel has helped patients maintain, restore, and revitalize their smiles for over 25 years. Originally from Flushing, Dr. Degel received his bachelor of science degree from St. John's University. He attended Georgetown University Dental School, where he met his wife, Dr. Carmen Every-Degel.
Dr. Degel maintains active memberships in several professional associations including the American Dental Association, Academy of General Dentistry, and American Academy of Cosmetic Dentistry.
Dr. Carmen Every-Degel
A renowned dentist and a vital member of the team at Astoria Dental Group, Dr. Carmen Every-Degel specializes in advanced cosmetic dentistry. Dr. Every-Degel grew up in Aruba. She lost a permanent tooth when she was young, and the gap in her smile coupled with noticeably crooked teeth left her feeling self-conscious about her appearance. Her mother's decision to repair her daughter's smile with cosmetic dentistry treatment allowed Dr. Every-Degel to experience firsthand the boost of confidence achieved with targeted cosmetic treatment. Since taking over the Astoria Dental Group with her husband in 1990, Dr. Every-Degel has provided patients with consistently beautiful results.
Like her husband, Dr. Every-Degel is a member of a number of professional organizations including the American Association of Women Dentists, Academy of General Dentistry, and the American Dental Association.
Cosmetic Concerns Turned Into
Proud Smiles in Queens, NY
Pick your plan, you need to look at just how much you'll pay for each and every service truly comfortable with a dentist and you feel he or she can be an ally in your ongoing oral care regimen, then consider signing a plan to just keep that dentist available.
View On Google +
I've visited both Dr. Every-Degel and Dr. Degel and have had great experiences with both, with extensive work being done- extraction, implants, bridge, veneers, Invisalign, crowns, root canals and the basic cavities. The assistants are very helpful, staff is competent and friendly, the dental hygienist does a great job and I've never had to wait.
View On Google +
Cosmetic dentistry is an investment in your confidence and your quality of life. Those who come to us expect the best, and we work to stay at the cutting edge of dental care. These are some of the ways we separate ourselves from the pack when it comes to life-changing treatments and procedures.
Top-notch Technology
We have undergone renovations and constant improvements to ensure we are one of New York's most modern dental offices. No expense has been spared to provide our patients with the best in technology, techniques, and care. Among the many technological amenities we provide are our on-site dental lab, periodontal laser treatments, and intraoral digital imaging. These innovations and more help us to provide quick service for many cosmetic and restorative dentistry procedures, such as next-day implant-supported restorations.
Sedation
We ensure all our patients are relaxed and comfortable throughout their time with us. In addition to our characteristically compassionate care, we can provide sedation when necessary. We offer oral conscious sedation, and also work with a board-certified anesthesiologist who can provide deeper relaxation via IV sedation. We will do whatever it takes to keep you relaxed and comfortable. Our sedation allows you to remain verbal and alert during a procedure while eliminating the anxiety some patients feel when undergoing dental work.
First-rate Financing
Our concern for your health and happiness does not start and end in the dental chair. We know that those who make the move towards self-improvement with cosmetic dentistry are likely spending out of pocket. We pride ourselves on making first-rate cosmetic dentistry a fit for virtually any budget. To make sure you never have to compromise your goals, we offer financing through CareCredit® and LendingClub, as well as discounts when bundling big procedures.
Change Your Smile, Change Your Life

At Astoria Dental Care, we have been transforming shy grins into A-list smiles since 1991. Our proven track record of satisfied patients has led to us being featured in leading publications like Vogue, Cosmo, Top Dentists, & Newsweek.
Request a consultation to find out why patients in Queens, Long Island, and all around New York City come to us. Call or write to explore how we have you covered for all your cosmetic dentistry desires and needs.
See Why So Many Come to
Our Queens, NY, Practice for Cosmetic Needs
I have been a patient at Astoria Dental for over 15 years, along with my son. We love the doctors and the staff, many of whom have worked there for just as long. It's not one of those big, fancy doctor's offices, but you'll find it's clean, welcoming, and keeps current with modern technology. They accept most insurance plans and will help you arrange financing if you need help with copays. Astoria Dental is the Best!
View On Google +
I adore Astoria Dental Group. Dr. Degel is absolutely wonderful: consummately professional, careful, gentle, precise, thorough, concerned and expert. Both my husband and I are patients and couldn't be happier. I moved to the practice shortly after it opened, so my care has been first-rate for some time. My husband came in subsequently, and family and friends began noticing that his teeth looked better than ever.
View On Google +
In order to undergo any cosmetic treatment, you should be in good overall health. Any conditions such as gum disease or decay must be fully treated before we can address the aesthetic concerns of your smile. If you suffer from any oral health issues, we can provide the effective dental care you need to rebuild your smile's foundation with state-of-the-art restorative procedures.
Once we have addressed any underlying oral health issues, our dentists, Drs. Degel and Every-Degel, can review your cosmetic goals with you. We will go over your options, considering your budget and timeline, in order to develop a personalized treatment plan. Our doctors understand the importance of a beautiful smile, especially if you have suffered from dental issues for a long time. Regardless of your current health, our Queens team of cosmetic dentistry professionals can help you achieve the smile of your dreams.
Reach out to Our Practice
Our Queens, NY, cosmetic dentistry office, serving Long Island and greater NYC, offers several advanced services to help you achieve the most dramatic smile transformation. From teeth whitening to dental implants, you can combine any of our procedures to craft a customized cosmetic treatment plan to enhance the look of your smile. Our dentists will gladly go over all of your options so that together, we can help you develop a treatment plan tailored to suit your needs.
Whether you are ready for a smile makeover or individually tailored mini makeover, our cosmetic dentistry team can meet your needs.
To schedule your consultation at our Queens office and receive personalized recommendations for cosmetic dental treatment, please contact us online or call us today.
Invisalign®
If the thought of wearing bulky metal braces has led you to put off straightening your smile, Invisalign offers a discreet alternative that offers a number of benefits to patients who qualify. Using a series of customized, clear aligner trays, the Invisalign system is far more comfortable than the brackets and wires of metal braces. Since the trays are removable, you can maintain your normal oral hygiene routine. You can also enjoy all of your favorite foods with no restrictions.
Invisalign can offer life-changing results, but it does have limited candidacy. You must be committed to wearing the aligners at least 20 to 22 hours a day, and Invisalign cannot correct severe misalignment issues. Dr. Every-Degel is recognized as a top Invisalign provider and can determine if the orthodontic treatment is a good option during your next visit to our dentistry office.
Teeth Whitening
Coffee, tea, tobacco, and a number of other factors can have an effect on the luster of your smile. Staining and discoloration can be embarrassing, and difficult to treat with over-the-counter options. Professional whitening can remove the toughest stains and dramatically brighten your smile in just one treatment. While developing your cosmetic treatment plan, our dentists will examine your smile and recommend the teeth whitening treatment that is best for you.
Astoria Dental Group offers both Zoom!® and BriteSmile® whitening treatments to safely, quickly, and effectively achieve stunning results. The Zoom! whitening process can be done during your lunch hour and can brighten teeth an average of eight shades. BriteSmile whitening uses a proprietary hydrogen peroxide gel that is activated by a blue spectrum light and can brighten your teeth up to 14 shades in just one hour.
All Smiles at Astoria Dental Care!
What can I say ! The staff were amazing and very professional and doctor Degel was did an outstanding job on my implants and everything else , I have a slight fear of dentist but the doctor kept me at ease and did an amazing job with little or no pain . The implants have changed my life
View on Google
As nerve wracking as one may think a visit to the dentist will be, I have to say I've had a great experience every time with this office. The staff is friendly, welcoming and pleasant. I worked with Cindy who is knowledgeable, thorough and walks me through the entire process with attention to all my questions. Always walk out of a visit on a good note. Highly recommend it.
View on Google
Porcelain Veneers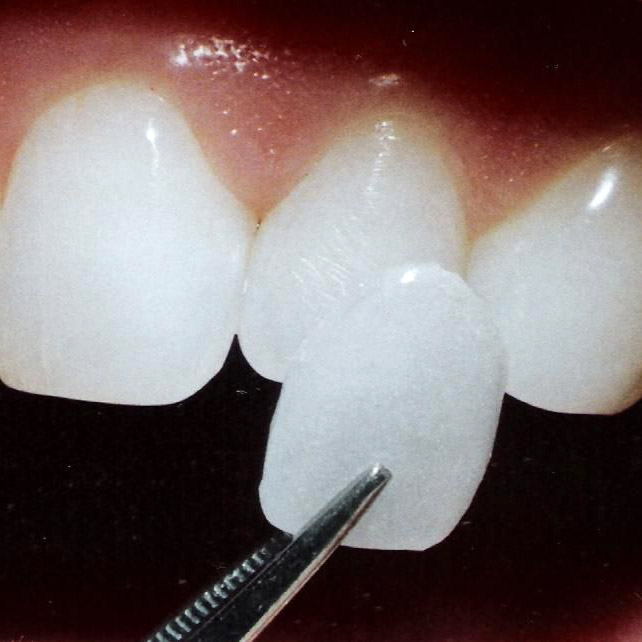 Chipped, worn, slightly crooked, and permanently stained teeth can impact not just your smile but your self-confidence. Made from medical-grade porcelain, veneers create brilliant smiles with quality and durability you can feel. Porcelain veneers are incredibly versatile and can conceal a number of imperfections. Today's cutting-edge ceramics are indistinguishable from natural teeth, allowing veneers to give you a brighter, more balanced smile.
Astoria Dental Group in Queens also offers LUMINEERS®, a type of minimal-prep veneer. These ultra-thin veneers are a good option for patients with sensitive teeth or who would like a reversible treatment. The size of your teeth will determine the amount of preparation you will need to receive LUMINEERS. Our dentists can review your options to see which type of veneer meets your needs.
Dental Implants
A missing tooth or teeth can be embarrassing and uncomfortable, but it can also have a long-term effect on your health. The jawbone is stimulated by the roots of a tooth, and when a tooth is lost, the lack of stimulation causes the bone tissue in the jaw to begin to deteriorate. As this atrophy continues, it causes the surrounding teeth to shift. If left untreated, bone loss in your jaw can lead to further dental issues such as misalignment and additional tooth loss. It can also cause your face to appear sunken and aged beyond your years.
The titanium posts of dental implants act as a substitute for the roots of a missing tooth. Dental implants stimulate the bone tissue in your jaw just like the roots of a tooth and are the only treatment in modern dentistry that can stop the bone loss associated with a missing tooth or teeth. Dental implants provide a stable foundation for restorations such as a crown, bridge, or denture so you can enjoy the benefits of a complete smile once again.