Mini Dental Implants vs. Traditional Dental Implants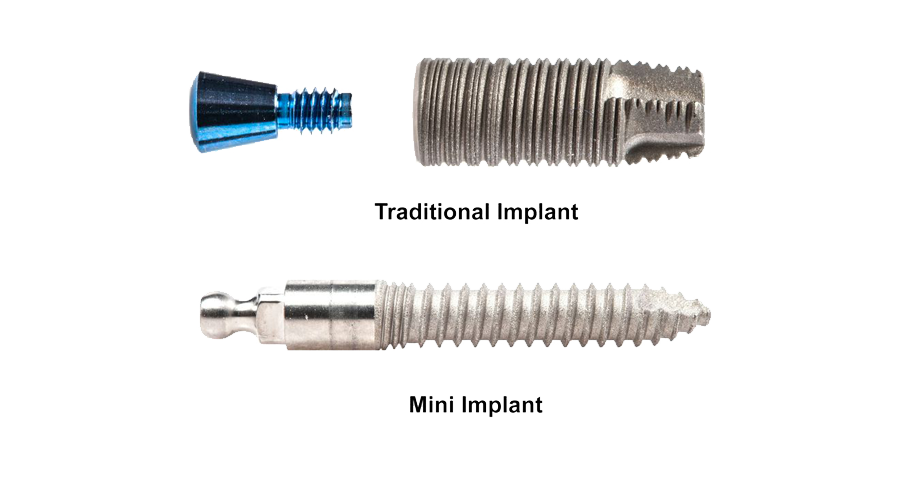 Adult tooth loss can undermine your smile, self-confidence, and oral health. For patients with tooth loss, dental implants are a popular tooth-replacement treatment option.
Dental implants come in two basic sizes: traditional full-sized dental implants and mini dental implants. The dentists at Astoria Dental Group can help patients understand the difference between traditional versus mini dental implants during consultations at our Queens, NY, area practice.
Read on to learn more about the benefits of these two types of implants.
A Closer Look at Traditional Dental Implants
Traditional dental implants are titanium posts that are surgically placed within the jawbone and serve as artificial tooth roots. Within a few months of implant placement, the implant will merge with the surrounding hard and soft tissues in a process called osseointegration.
Once the bone has fully bonded to the implant, a permanent dental restoration, such as a dental crown, bridge, or denture, is attached to the implant.
In order to receive traditional dental implants, the patient must have sufficient jawbone to support the post. Because the jawbone breaks down following long term tooth loss, some patients may need a bone graft before undergoing traditional dental implant placement. Alternatively, patients with poor jawbone density may be better suited for mini dental implants.
Understanding Mini Dental Implants
Like traditional dental implants, mini dental implants are small titanium posts that are surgically inserted into the jaw to act as tooth roots. While mini dental implants can replace one or more missing teeth, they are especially beneficial for dentures.
In many cases, dentures are attached to the mini dental implants at the time of implant placement. This immediate placement of a denture is attractive to many patients who do not want to wait months to receive a permanent denture, as in the case of traditional dental implants.
Additionally, mini dental implants are smaller than traditional dental implants and do not require as much jawbone density to support the implant. For this reason, patients with poor jawbone density may be eligible for mini implants right away, and not need a bone graft to fortify the jaw.
Determining Which Is Right for You
The key difference between traditional dental implants and mini dental implants is their size. Traditional dental implants are about 3 to 6 mm in diameter, whereas mini dental implants are about half that size.
Due to their more substantial size, traditional dental implants typically provide a stronger base for the attached restoration. That said, mini dental implants are effective and durable.
In sum, mini dental implants are a good choice for patients with insufficient bone density. Mini dental implants typically have faster healing times than traditional dental implants.
Contact Us Today to Learn More
Both traditional and mini dental implants are designed to restore oral function and rejuvenate your appearance. Learn which treatment is right for you by setting up your appointment today. You can call us at (718) 215-0510 or use our online messaging form.
Related to This