Determining Your Candidacy for Dental Implants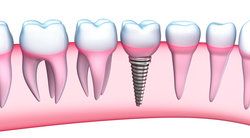 Missing one or more teeth can greatly diminish your confidence, while negatively affecting your daily quality of life. Not only do missing teeth cause you to hide your smile, but they may also cause chewing and speaking to feel like challenging chores. If you are ready for stable, beautiful teeth replacements, you may have begun to consider dental implants. Your Queens dentists, Drs. Degel and Every-Degel, work hard to ensure dental implant candidates receive the care they need for successful placement and restoration. If you are curious whether you make a good candidate, or how your dentists at Astoria Dental Group may guide you toward candidacy, we encourage you to schedule an appointment with us today.
You Want a Truly Complete Tooth Replacement
Becoming a good candidate for dental implants includes understanding these prosthetics. If you are simply looking for a fast replacement that will improve your smile, a dental bridge or dentures may provide you with the improvement you desire. Unlike the prosthetics that only replace the visible portion of your tooth, dental implants provide the closest replication of your natural tooth's appearance and structure available to the dental industry. An implant replaces your tooth's roots with a titanium post, surgically placed within your jawbone. After healing, your skilled and experienced cosmetic dentist will complete or "restore" the implant with a custom-fitted dental crown. This prosthetic offers unsurpassed stability, beauty, and long-term results. While it requires a greater investment than other prosthetics, the benefits are priceless.
You Understand the Recovery Process
Dental implants require three or more months of healing time. This is unlike other prosthetics, such as bridges and dentures, which are non-invasive and require no recovery. Because your dentist will surgically implant posts into your jawbone, you will need to heal before the process is complete. Over time, the titanium post will fuse to your jawbone in a process called osseointegration. If you feel dedicated to undergoing surgery, the recovery period, and a final restoration, you are on the road toward excellent candidacy.
Your Jawbone and Gums Are In Good Health
The final and most essential aspect of candidacy is good jawbone and gum health. Dental implants require support from your jawbone. If your jawbone is weak or has lost density, you may require bone grafting. In addition, placing a prosthetic into diseased gums is too dangerous and will result in poor healing. In this case, you may need periodontal care. Fortunately, your dentists at Astoria Dental Group will create a customized care plan to improve your bone health, while guiding you toward an ultimate goal of receiving dental implants. They offer bone grafting and periodontal treatments, so you can achieve the improved oral health you need to become an excellent candidate for dental implants.
Schedule an Appointment Today
Have you been considering dental implants to replace your missing teeth? If you would like to learn more about dental implants and your candidacy, we encourage you to contact us today, so we can schedule an appointment. Drs. Degel and Every-Degel look forward to meeting you, and guiding you toward a gorgeous smile.
Related to This