Porcelain Crown Benefits and Risks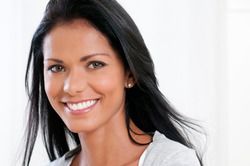 There are many options available for patients in need of a dental crown. Traditionally, metals like gold have been used to cap teeth after a root canal or injury. Today, porcelain dental crowns have steadily risen to become the material of choice. But what makes porcelain crowns better than metal?
The Benefits of Porcelain Crowns
There are several reasons why our Manhattan cosmetic dentists recommend porcelain dental crowns over traditional metal dental crowns. These reasons include:
A More Natural, Lifelike Look - The metallic contrast of a dark metal dental crown certainly stands out in a crowd, but it may not be the kind of attention you want. Even porcelain-coated metal crowns have an unavoidable thin sliver of grey that gives them away where the crown connects to the gum line. Porcelain crowns are created to avoid detection, and they are also stain-resistant, custom sculpted to fit your mouth, and match the color and tone of your natural teeth perfectly. The result is a beautiful lifelike crown that blends in to enhance your smile naturally.
A Stronger Bite - With its similarities to the natural enamel of a tooth, porcelain is the ideal material to bond with your tooth when placing a crown. This makes porcelain dental crowns the perfect choice for patients with teeth that are not missing entirely but are broken or otherwise damaged from injury or tooth decay. Porcelain reinforces and strengthens your underlying natural tooth, making it the ideal choice adding true function along with its beautiful form.
The Risks of Porcelain Crowns
In order to make an informed decision, it is important to take a look at the risks as well as the benefits of any dental procedure. While porcelain crowns have many benefits, there are also risks associated with the technique:
More Fragile Than Metal - Porcelain crowns can be more fragile, and thus more prone to cracks or breakage, than their metal counterparts. While porcelain crowns are more than strong enough to handle day-to-day wear and tear, habits like bruxism, also known as teeth grinding, can lead to breakage more quickly. Over the years, even the average patient may find that they will need to have their porcelain crowns replaced.
More Expensive Than Metal - While the placement of metal alloy dental crowns is generally recognized within the dental industry to be a necessary remedy, porcelain crowns are considered a cosmetic and restorative dentistry procedure. Because of the cosmetic uses, porcelain crowns are not always fully covered under dental insurance. If your dental insurance provider does not fully cover porcelain crowns, be sure to discuss it with your cosmetic dentist: there are often many payment plans available that will allow you to achieve the smile you desire.
Contact Your Cosmetic Dentist Today
Now that you know the facts about porcelain dental crowns, it's time to talk to the professionals. The husband-wife team of Clifford Degel, DDS, and Carmen Every-Degel, DDS, has provided hundreds of Manhattan patients with beautiful smiles through porcelain dental crowns for years. Contact the Astoria Dental Group today to schedule a consultation and find out what porcelain crowns can do for you.
Related to This